Our Stay At Canella Beach Hotel
It has been about two months since our family experienced an amazing 14-day Caribbean cruise from Guadeloupe. As you may already know if you've been planning a trip between New York and Guadeloupe, finding flights can be challenging, depending on the time of year that you are seeking to travel. We are thankful for Norwegian Air that flies non-stop between JFK (New York, USA) and PTP (Pointe-à-Pitre, Guadeloupe), seasonally. Our flight to Guadeloupe this March was within Norwegian Air's PTP season. However, it was a bit more of a challenge to find return flights to New York because we returned after the season ended. Thanks to Air Antilles and JetBlue, it worked out very well for us. I have an entire blog post to assist in planning flights to and from Guadeloupe, here. Norwegian Air flights from New York to Guadeloupe will generally arrive in PTP after 6 PM, which means that, if you're planning to sail from Guadeloupe, you may want to fly in a day in advance, and that will then require a pre-cruise hotel stay.
We flew into Guadeloupe on Saturday, March 17, 2018, and our ship, the MSC Fantasia, set sail from Guadeloupe on Sunday, March 18, 2018. So, for one night prior to our cruise, we stayed at Canella Beach Hotel. We arrived at Canella Beach Hotel within about 20 minutes of leaving the airport. The front desk staff greeted us warmly, and spoke English quite well, which made check-in very easy. For our family of five, our pre-cruise stay at Canella Beach Hotel, Duplex 322 and 323, was comfortable and convenient.
My mother and our two sons stayed on the lower level, which was room 322, while my husband and I stayed on the upper level, which was room 323. The rooms appeared to be modern and clean upon our arrival.
After a day of traveling, we were quite hungry when we got to the hotel. Thankfully, the on-site restaurant, La Veranda, was open for dinner. Most of the restaurant staff spoke French, but one waitress spoke English, and she is the person who attended to us at dinner time. Our waitress kindly explained the options to us, and we selected three adult meals and two children's meals, which were all comprised of a drink and two of the three available courses – we chose appetizers and entrées. It was a buffet-style dinner, so after letting the waitress know what our selections would be, we helped ourselves to our meals. To us, dinner was just ok. The passion fruit drink that I had was delicious, as was the guava drink that my mother and my husband had. There is an adult rate and a child rate, and the charges were added to our room.
We were able to get a bottle of milk from the restaurant, so that we could provide my younger son with warm milk, which he loves to have before going to bed. We used a Steri-Bottle disposable bottle and Tommee Tippee travel bottle warmer to prepare his milk for the night. We all slept comfortably in our duplex apartment that Saturday night.
On Sunday morning, we woke up excited to visit the beach at our hotel, but first, we showered, got dressed, and went to breakfast at La Veranda. Here's a look inside the duplex at some of the items that we used for our one-night stay, including toiletries and things to shower in the morning prior to leaving for the cruise ship.
There were no additional charges to our room for our Sunday morning visit to La Veranda because breakfast was included in the price of our stay at the hotel. As the restaurant sits just a few steps away from the beach, we then went directly to the beach after breakfast. We enjoyed the water and the tranquil atmosphere at Canella Beach, which was a great way to start our day in anticipation of an amazing 14-day Caribbean cruise that would begin in a few hours.
We checked out at about 11 AM, and waited in the hotel lobby for our driver to arrive to take us to the cruise port. While waiting in the lobby, we browsed the gift shop and bought a few small items, including snacks for our sons. Our drive from the hotel to the cruise port took less than 20 minutes.
Overall, we had an adequate stay at Canella Beach Hotel before our cruise.
We returned to the hotel after our cruise. The Canella Beach Hotel staff were warm and friendly on both occasions, which, of course, enhanced the experience. When we checked in early after returning from our cruise, our duplex was not yet ready, so we were provided with towels for the beach, and a storage room for our luggage, so we had a full day's access to the premises, which was lovely. We bought lunch at the on-site restaurant, ate at the beach, and relaxed until our room was ready. Even then, we stayed at the beach until we were ready to go to the duplex apartment.
This time, after our cruise, we were assigned to Duplex 348 and 349. Our pre-cruise duplex was much nicer than our post-cruise duplex. The bedrooms, bathrooms, and even the view was much better in Duplex 322 and 323 than in Duplex 348 and 349. There was also an unpleasant smell by the elevators that are used to access Duplex 348 and 349, and there was a musty smell in the duplex itself. As it was just for one night, and we were super tired from an amazing two-week voyage, we didn't formally complain to the staff about it, but obviously, I made a note to self. We would consider staying at Canella Beach Hotel again if cruising from Guadeloupe, and we would likely request Duplex 322 and 323.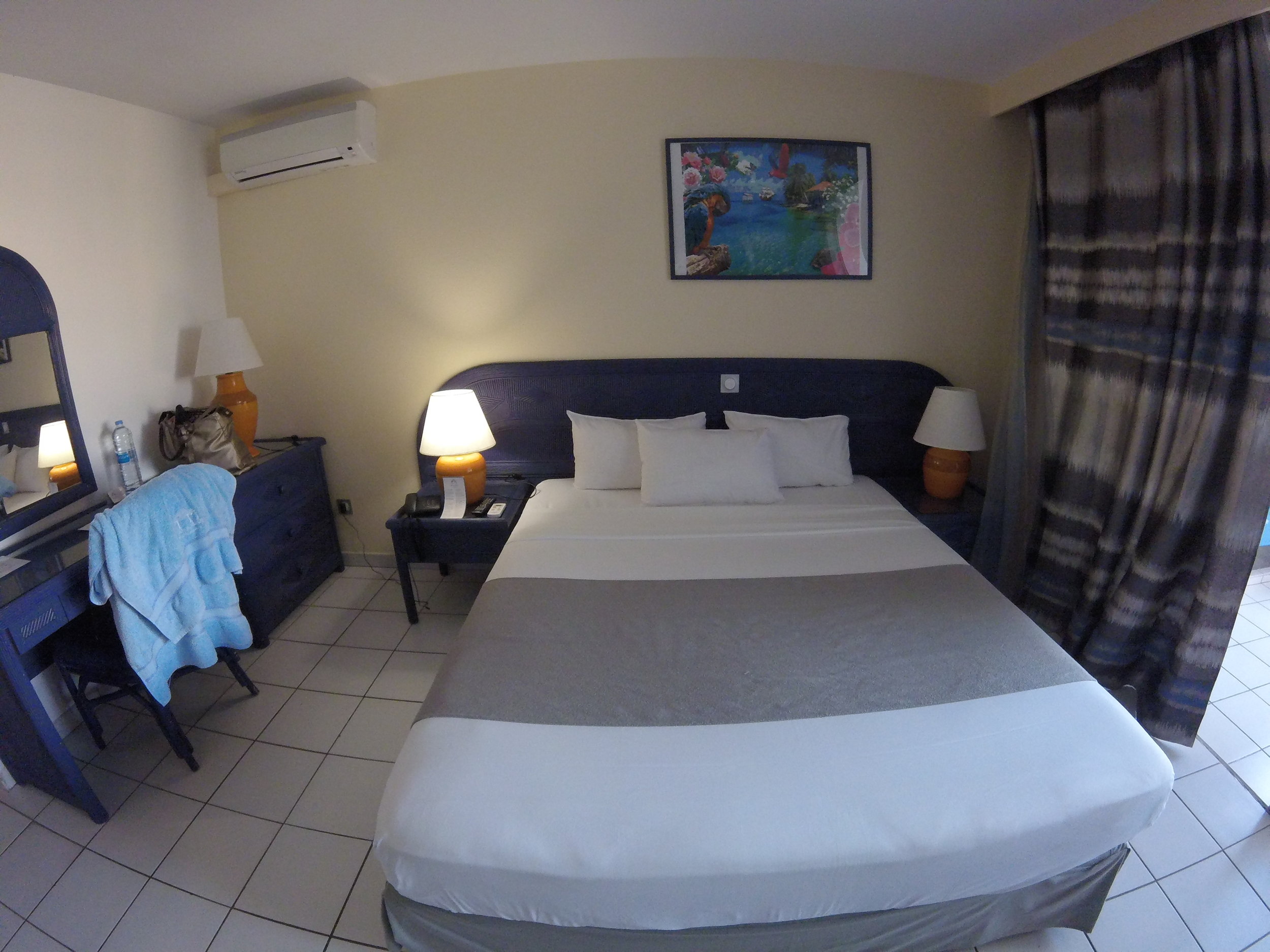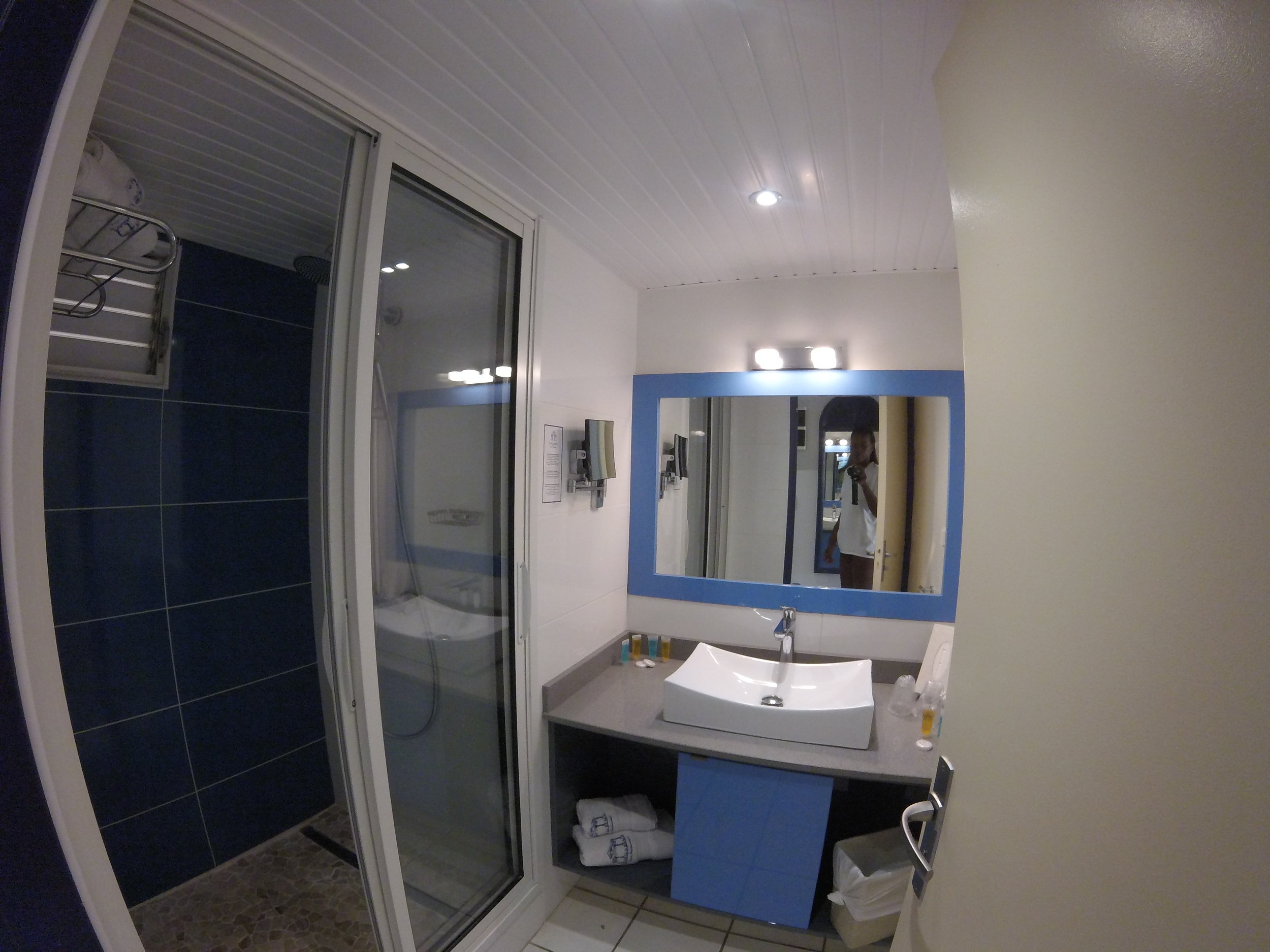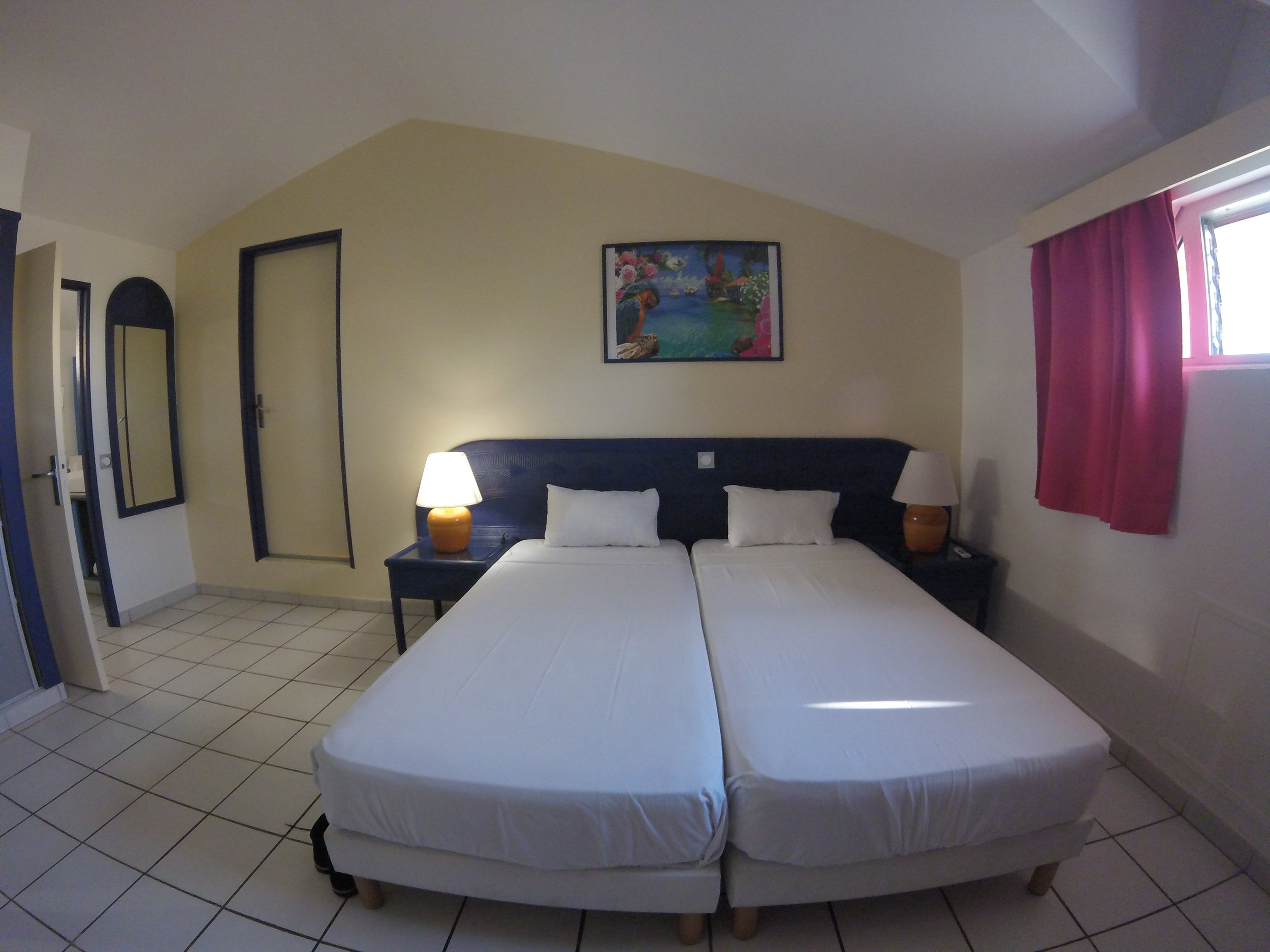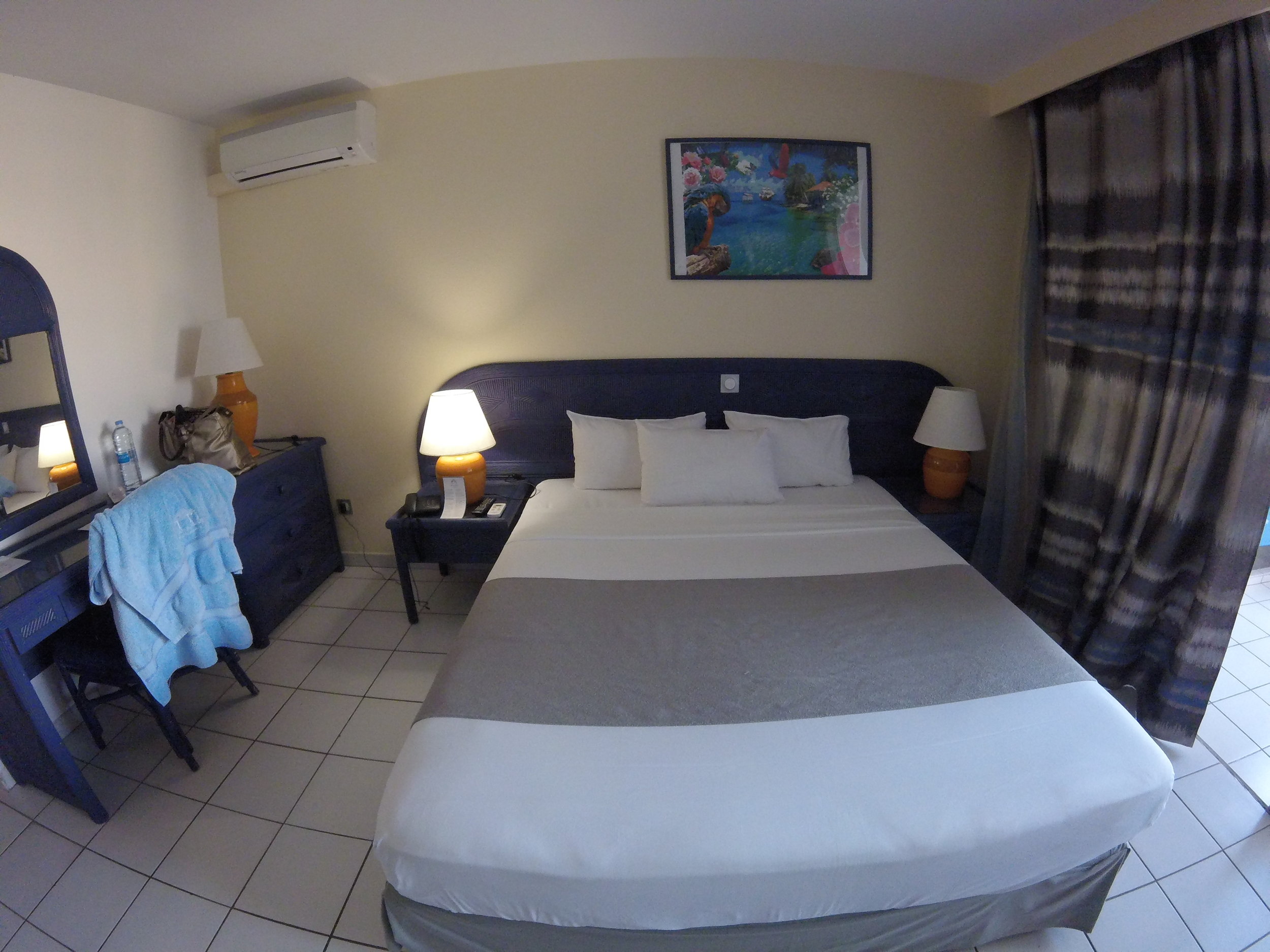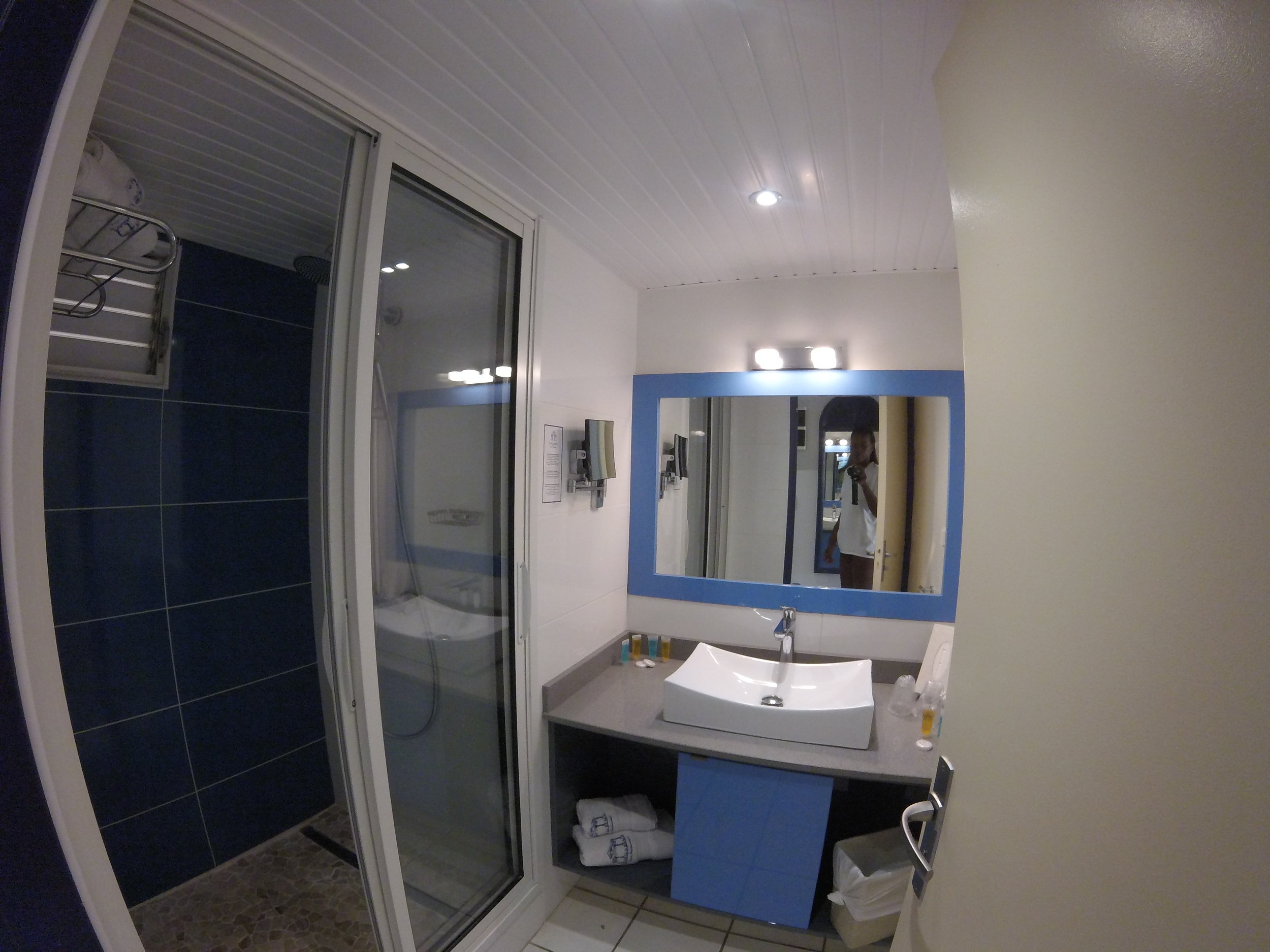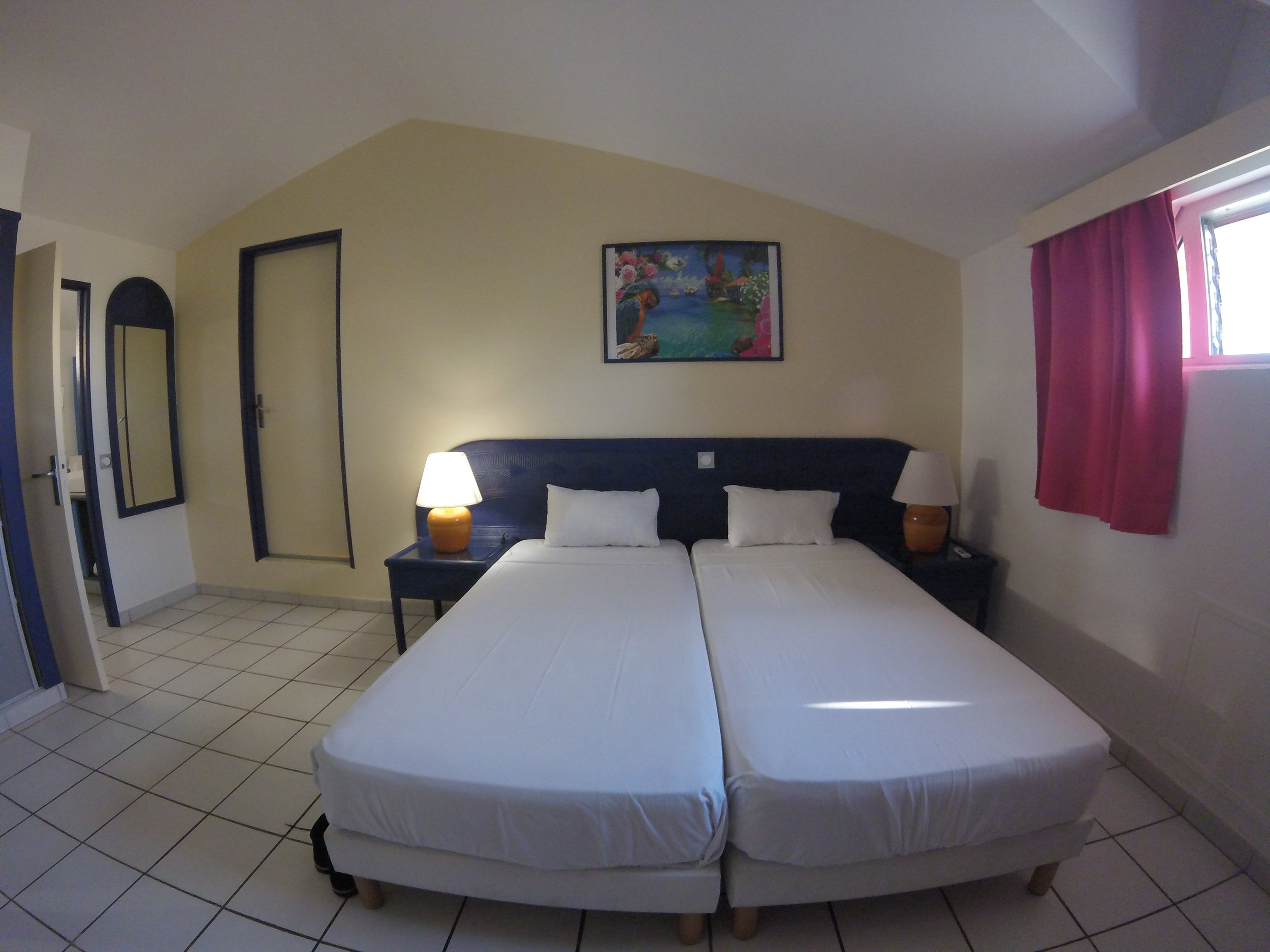 Looking for a pre-cruise and/or post-cruise hotel in Guadeloupe? Hopefully, this article, and its photos and video, are helpful to you.
If you have questions about our stay at Canella Beach Hotel, or if you have stayed at another hotel before or after your cruise from Guadeloupe, let us know.