Our Pullmantur Monarch Anniversary Cruise 2018
Beginning Our Baecation 2018
For months, my hubby and I had been looking forward to our 9th anniversary celebration. Although we went about business as usual on our actual anniversary this year, we had an amazing trip planned for the following week.
On October 14, 2018, my hubby and I flew from New York/JFK to Bogotá, Colombia, and connected in Bogotá to our flight to Curaçao. This was our first time flying Avianca and we were very comfortable. We enjoyed our first flight in particular, as it was a bigger airplane, breakfast and a snack were served, and we both had the opportunity to relax and watch movies onboard. Allan watched Jurassic Park -The Fallen Kingdom, and we both watched Taken 3. It was a smooth, comfortable flight from JFK to Bogotá.
Our flight from Bogotá to Curaçao was delayed with very little communication on the ground as to the delay, reason for delay, and expected duration of delay, while we could clearly see that there was no airplane at the gate even at the posted departure time. When our airplane arrived, we were allowed to board shortly thereafter, and the pilot explained that the delay was due to severe weather conditions earlier that day. That was the first public announcement as to the cause of the delay. On our second flight, which was much shorter than the first flight, a snack was served. I slept through the tail-end of the flight, and was awakened by what felt like a hard landing - Maybe it was amplified because I was asleep. Nevertheless, we are thankful to have arrived safely in Curaçao to embark on our 7-Night Antillas Y Caribe Sur Cruise to Bonaire, Aruba, Panama, Colombia, and back to Curaçao!
From Curaçao's Hato International Airport, we took a taxi to our hotel, the Renaissance Resort and Casino, Curaçao. The taxi cost $30.
We enjoyed a comfortable stay at the Renaissance Resort and Casino, Curaçao, for one night, as our ship sailed the very next day. For a resort with a great number of things to offer, we are considering returning for a longer stay. We chose this particular resort because of its proximity to the cruise port, and of course, its excellent ratings. It was great!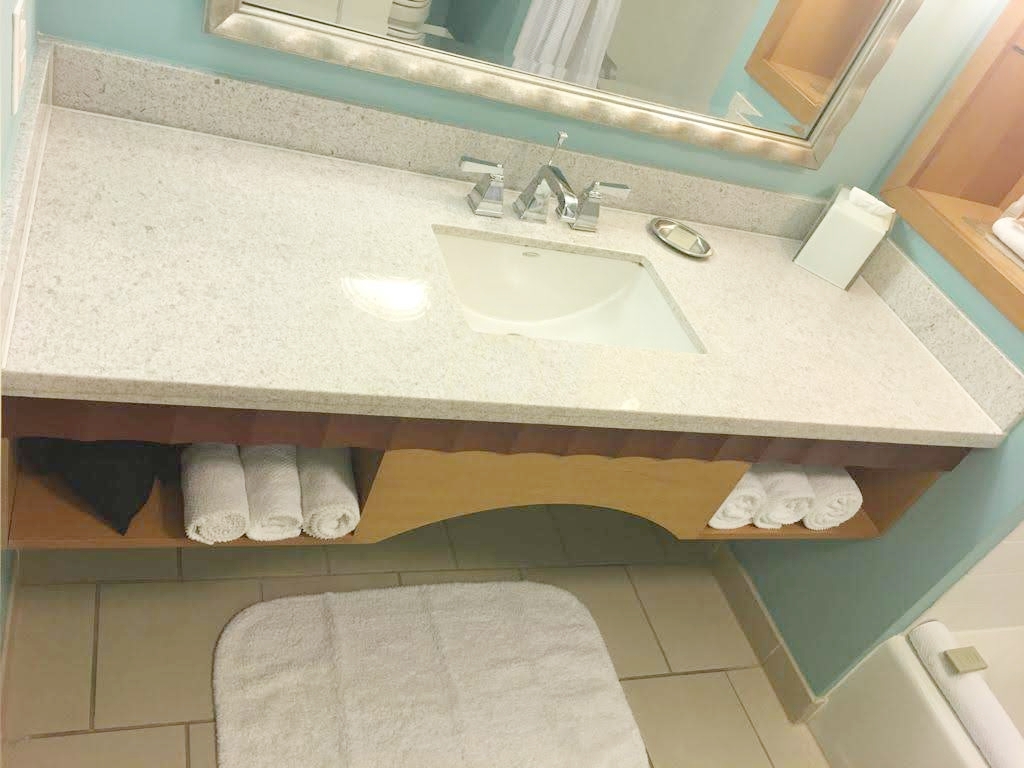 When we woke up on the morning of October 15, 2018, we got ready to meet our tour guide for the day, and we went onto the balcony of our hotel room to take in the Caribbean view, and we were pleasantly surprised to take in the first views of our cruise ship, the Pullmantur Monarch! We knew the ship would be close and visible from the Renaissance Resort, but it was even closer than we had thought and imagined! More details on the Pullmantur Monarch later.
Thankfully, the Renaissance Resort provided us with a courtesy late check-out time of 1 PM. So, off we went with our tour guide, Andy, to enjoy our day out and about in Curaçao.
Curaçao
On October 15, 2018, we enjoyed a customized tour of Curaçao with Andy from Around Curaçao Tours. As planned, Andy met us in the lobby at the Renaissance Resort bright and early to start our tour with enough time to see some historic sights and take in Curaçao's beaches.
We drove through Punda and saw the Queen Emma Bridge opened and closed. We had actually seen the bridge from the Renaissance Resort the night before, and it was a gorgeous sight with all its colorful lights. During our tour with Andy, we also saw the floating market as we prepared to drive through a number of different Curaçao neighborhoods. This drive was customized for us as we said we wanted to see where people in Curaçao live, not just tourist attractions. While I don't remember the names of all the neighborhoods we saw, I can tell you that we drove from the very modest neighborhoods with tiny houses including some houses that are free housing for those who need it to other areas that offer vacation villas. We drove through the "Gentlemen's Quarters," which isn't what you may think. The "Gentlemen's Quarters" are where accountants, attorneys, and other distinguished professionals' offices are centrally located. Andy stopped off at a fishing village which is also known for swimming with turtles. It was quite scenic and provided some beautiful pictures. The scenic drive and conversation with Andy about the minimum wage, various professions, the languages spoken in Curaçao, and the many natural topics that arose during the drive was "Dushi" 😊 "Dushi" is a word that means "sweet" or "really nice." It kinda reminds me of how we Jamaicans say "Irie."
As requested, Andy drove us to a number of different beaches in Curaçao, including Playa Kenepa, Playa Kenepa Chiki, and Playa Jeremi. We purchased a stewed conch meal, which was served with rice and vegetables, and we took that meal with us to Playa Kenepa Chiki where we ate and took a dip in the beautiful blue water. We spent a nice amount of time at the beach, then hopped back into Andy's van to see more sights of Curaçao, including an area filled with flamingos, and an area known to offer beautiful vacation villas that fit a variety of budgets. We then headed back to the Renaissance Resort with a quick stop at Parke Lucha Pa Libertat where Curaçao's Tula Monument can be found. Earlier in the tour, Andy had told about Tula, a slave in Curaçao in the 1700s, who fought for slaves in Curaçao to be freed, and who is credited with the start of Curaçao's liberation movement, so it was an interesting and somber moment when we caught glimpse of our cruise ship on the ocean right next to the monument and park that is now dedicated to Tula.
Once back at the Renaissance Resort and Casino, Curaçao, we showered and got dressed, and with our bags packed and ready to go, we checked out of the Renaissance Resort at about 1 PM and asked that our bags be held there so that we could walk around a bit. There is a large shopping area at the Renaissance Resort and beyond, which includes Rif Fort. We started exploring the area on that Monday, but it would be on the next Monday, but it would be on the next Monday, October 22, 2018, that we would thoroughly walk through Rif Fort and cross the Queen Emma Bridge, venturing out a bit further by foot.
When we returned to Curaçao on October 22, 2018, we were prepared with a Port Shopping Map and coupons for free pendants, charms, and bracelets, and we surely collected these trinkets by the grace of God. Although Curaçao offers a lot of shopping opportunities, we did not buy much more than some small souvenirs for loved ones and colleagues. Nevertheless, it was nice to window-shop and even look at a number of interesting pieces of jewelry, many of which were being offered at discounted prices for cruisers. We highly recommend strolling through Punda and the shopping area.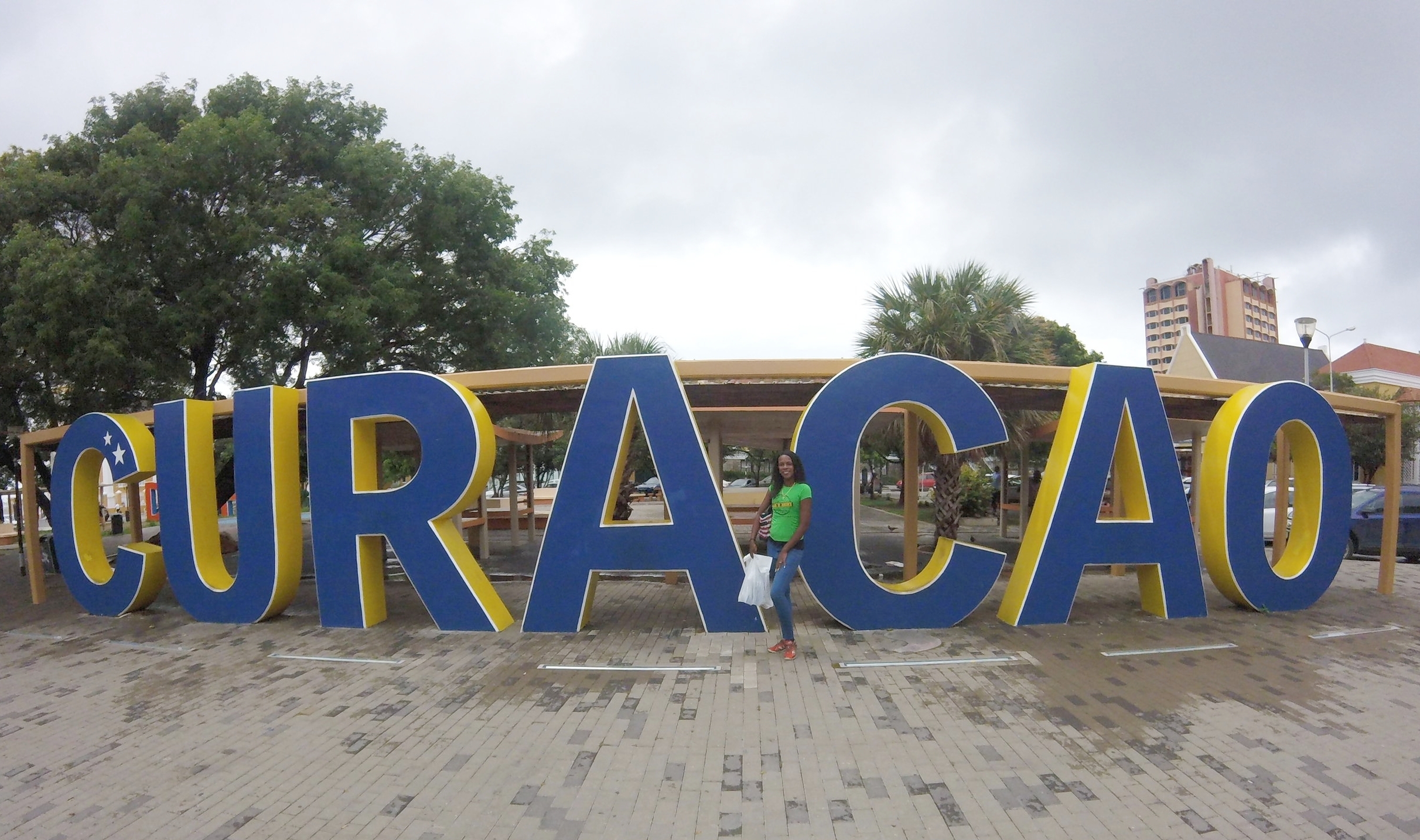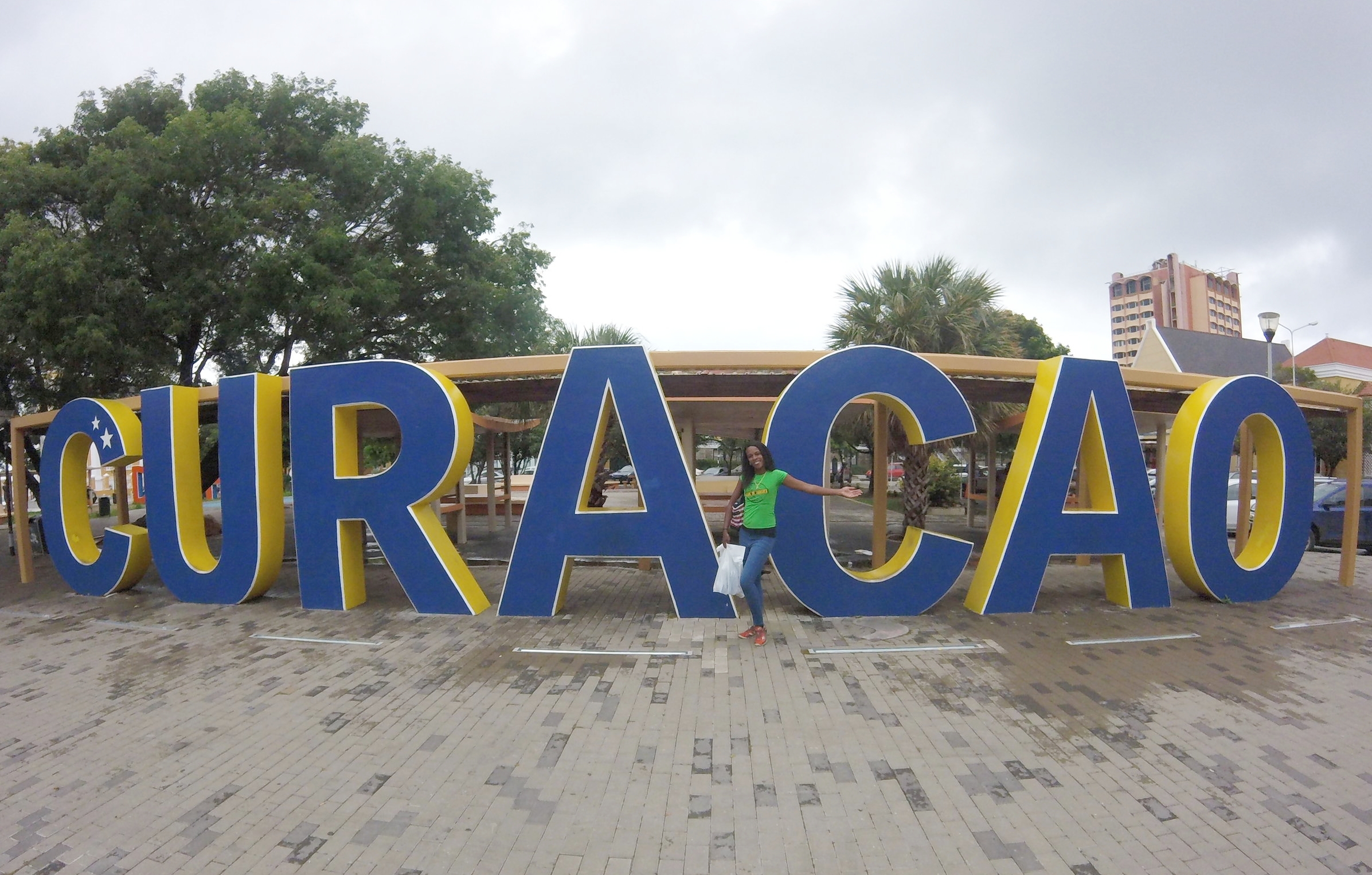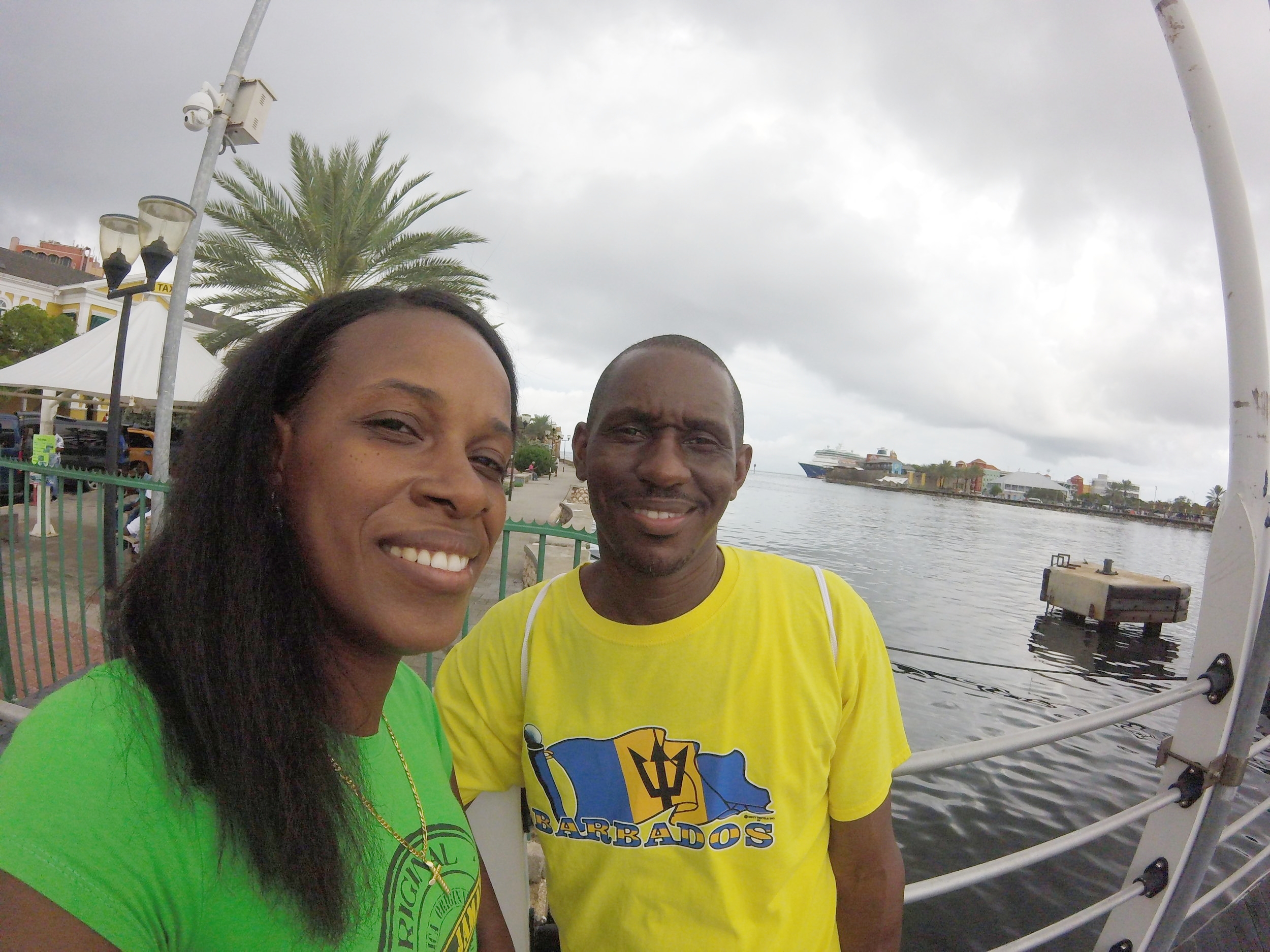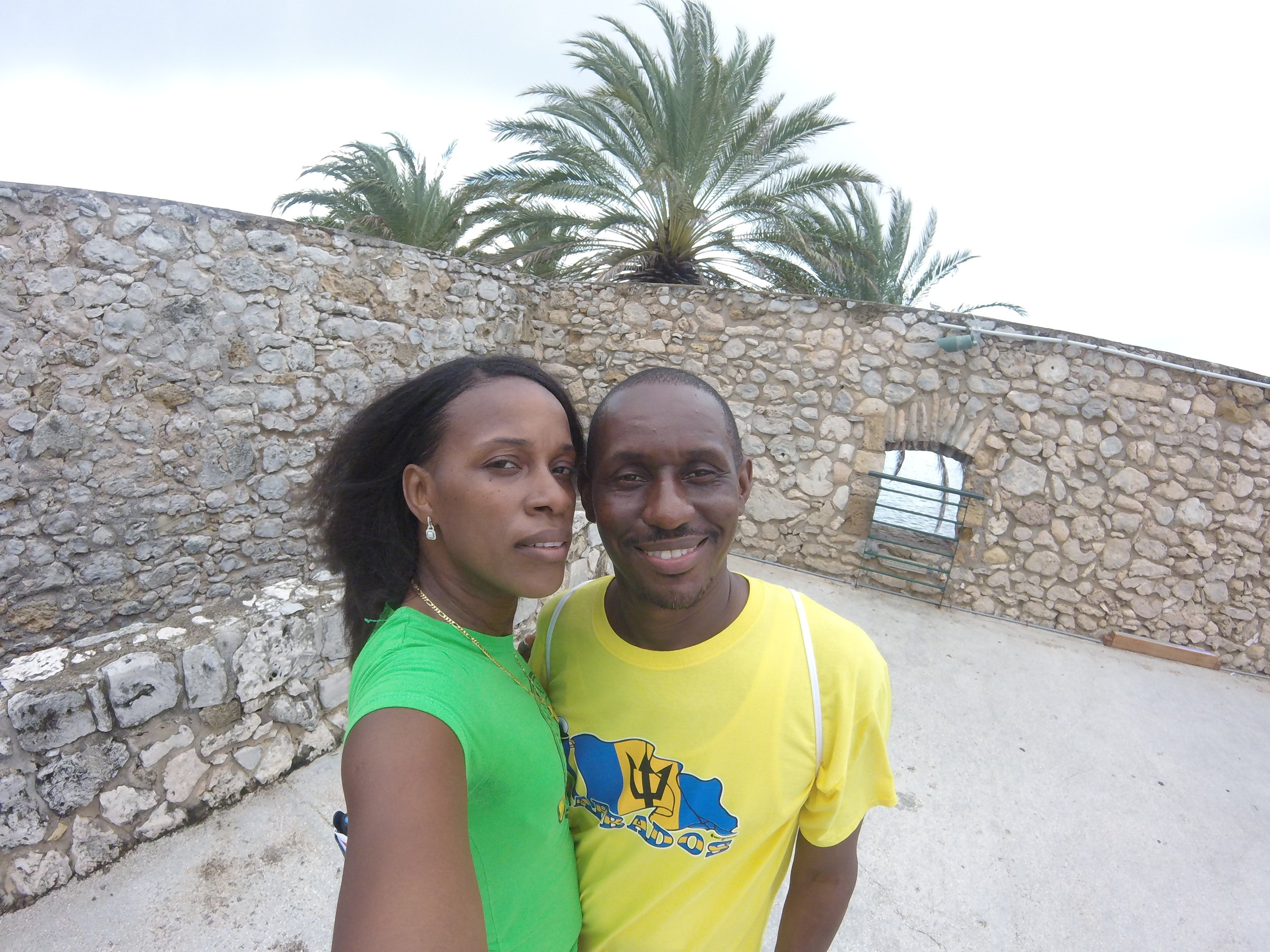 So, back to Monday, October 15, 2018, after our brief stroll around the resort and port area, we were eager to start our cruise, so we retrieved our bags from the resort and took the quick 5-minute stroll to our ship, the Pullmantur Monarch. At the cruise port check-in area, we were greeted by a young lady at a sign-in desk. She then gave us luggage tags that were different from the ones we had already received after completing our online check-in, so our bags now had two sets of luggage tags on there. She then pointed us towards the immigration office a few steps away from the sign-in desk. However, Pullmantur's Beverage Team had a table set up that intercepted our walk to the immigration office. The beverage team offered us a premium beverage package, but since we knew that our cruise already included an acceptable beverage package for us, we declined their offer and proceeded to the immigration office, then to the check-in table where we provided a credit card to be added to our room account for any purchases we wanted to make, and, there, we also received our cruise cards and excursion tickets for those excursions we had purchased via Pullmantur's website. Then, onto the Pullmantur Monarch we went.
The Ship: Pullmantur Monarch
The staff and crew greeting us seemed quite friendly, which is always a great thing. We stepped aboard and the ship looked pretty decent. Yes, it is dated in many areas, but there have been a number of updates made over the years and they show – for example, touch-screen bulletin boards with some onboard options, and an updated digital photo gallery – however, make no mistake about it, the Pullmantur Monarch is an old ship, and that also shows in its plumbing issues, outdated décor in many areas, dirty carpets, and unpleasant smells that not only caught our attention on boarding day, but throughout the cruise.
I have been trying to figure out how to write this review from our Pullmantur Monarch sailing because, despite all that I just stated, we truly enjoyed ourselves during the week, and the itinerary offered on the Pullmantur Monarch throughout the year at the price point at which it is offered is UNBEATABLE! We chose this cruise for the ports: Curaçao, Bonaire, Aruba, Panama, and Colombia, and this itinerary did not disappoint. However, while the Monarch looks good for her age, being that she was built in 1991 and is, therefore, 27 years old at the time we sailed on her, we experienced a tiny inside room with old carpets, a shower that we nicknames "sputter spot" because of how water sputtered out of there, extremely limited bathroom space, and a toilet that did not always flush when we pressed the flush button… I am not exaggerating… it sometimes flushed about 10 minutes later. Having cruised multiple times with multiple cruise lines, we are accustomed to small staterooms. We have sailed in inside staterooms before, and we have certainly had small bathrooms, but the inside stateroom we had on the Pullmantur Monarch, and some oceanview staterooms that we walked by take tiny and outdated to another level. Additionally, check out the position of the television, which does not move, by the way… what is the reasoning behind that? Good thing we don't cruise for the purpose of watching television.
So, yes, while we had a great cruise, the room as well as the awful smells in the hallways on multiple decks, was a huge turnoff. Additionally, often times, in the buffet, plates and bowls to choose from had not been properly washed. The same can be said for some cups. The variety in the buffet was ok. You won't go hungry on the Pullmantur Monarch, but we think that a wider selection/variety should be offered at the breakfast and lunch buffets. Dinner was our favorite meal of each day onboard the Pullmantur Monarch. The superb service of or server Eloisa and assistant server Julio was something we treasure from this cruise. Also, the food was really tasty each night. Our dining room experience at the Atlántico Restaurant each night was excellent!
Other excellent touches included Gala Night, which was not only a special time in the dining room at dinner, but throughout the ship, with many photo stations set up onboard. Photo opportunities with the ship's captain on the portside and the staff captain on the starboard side are among the highlights of Gala Night. The night also featured a presentation acknowledging the ship's team and officers who all work really hard to deliver a pleasing cruise to their guests.
My husband says that I should inform readers to be prepared for a culture shock. He does not mean that Pullmantur's predominantly Spanish-speaking clientele is a shock – not at all – we research our cruises well in advance, so we were prepared for that, and I welcomed the opportunity to brush up on my Spanish. However, the culture shock he speaks of is in having your personal space invaded on elevators, on the buffet lines, and just about any other public place onboard in which there is a line or gathering. Folks crammed into elevators and cut in front at the buffet every single day.
Pullmantur Monarch Positive Highlights:
1) The ship's atrium is really beautiful and very well maintained. While I think that the carpeting throughout the ship, including the atrium, should be updated, the glamour of the rest of the atrium takes attention away from the dingy carpet.
2) The ship's staff and crew with whom we interacted were warm and friendly, and they helped to make the cruise a good one. From our dining room staff, to the ship's photographers, to the reception staff, bartenders, and the excursion/animation team, they were a pleasure to be around.
3) Excursions were well planned, with clear information on designated meeting points and times, and an organized process that allowed for a smooth disembarkation process in each port-of-call. We booked excursions via Pullmantur for our visits to Bonaire, Aruba, and Panama, and they were excellent!
4) The itinerary is a major highlight! Curaçao, Bonaire, Aruba, Panama, and Colombia!
5) The value: The price and what's included! My husband and I paid $1440 total for our cruise for two of us. The total cruise fare was $750, total government taxes was $500, and total pre-paid gratuities was $190. That $1440 included the wonderful Bonaire, Aruba, Panama, Colombia, and Curaçao itinerary, our stateroom, meals, beverages including alcohol, and some onboard entertainment for one week!
Bonaire
Our ship docked in Kralendijk, Bonaire on Tuesday, October 16, 2018. In Bonaire, we enjoyed the Rumba Fiesta Catamaran and Beach excursion, a lively catamaran sailing to and from Klein Bonaire, also known as Little Bonaire, with fruit punch and rum punch, music, and conversation, including learning about Bonaire's history from the crew.
Once the catamaran arrived at Klein Bonaire, guests were invited to swim ashore. Let me tell you, to date, my 7-year-old swims better than I do. I am one of the weakest swimmers I know, so I started thinking that I would simply stay onboard the catamaran; however, this was a part of our ninth anniversary celebration, so why wouldn't I go ashore with my husband who swims well? The catamaran's captain gave me a snorkel vest, explained how to inflate it, and said that a little air does wonders on the water. So, after Allan jumped in, swam to shore and came back to the catamaran, I put on the snorkel vest, and the captain said that they would help me if needed. Allan went into the water first, then called me in. I jumped in, and yes, the water was deeper than where I could easily stand. Although Allan can swim, and he held me, he is not exactly a swimming instructor or lifeguard, and with the water being deeper than where he could stand, it posed a challenge for him to also keep me afloat. Thankfully, one of the catamaran's crew members jumped in to assist Allan in helping me. Thanking God for His help through the wonderful crew that day, and of course, thanking God for my loving husband who encourages me to jump in and trust.
We had a nice beach break in Klein Bonaire. Although I clearly do not snorkel, or well, not yet, Klein Bonaire is known for clear waters and amazing snorkeling, and I can see because, even without snorkeling, we easily saw big fish through what is probably the clearest water I've seen thus far in the Caribbean. As water moved the catamaran back and forth while we were ashore, I was able to walk to the catamaran to get back. While Allan walked behind me, one crew member stood near the steps of the catamaran to help me into the boat. We had an amazing crew!
The party continued on the catamaran sailing back to the main island of Bonaire. When we got back to the catamaran, hubby and I purchased two cups of Blue Curaçao with Sprite, which was refreshing in the 84-degree weather that day. We sailed past Coco Beach and a number of huge yachts that were in Bonaire that day, and it was pretty awesome! Once back at the cruise port area, we walked around and looked at the various offerings, including personalized shot-glasses and other personalized glass products and crafts, as well as Bonaire's world-renowned sea salts. There was a wide variety of sea salt products at the cruise port, including body scrubs and seasoning options.
We then got back on our ship, the Pullmantur Monarch, and we ate lunch, enjoyed sailaway, showered, had dinner, and enjoyed each other's company. That is what our typical evening looked like throughout our 7-Night Antillas Y Caribe Sur Cruise, which is just what we wanted.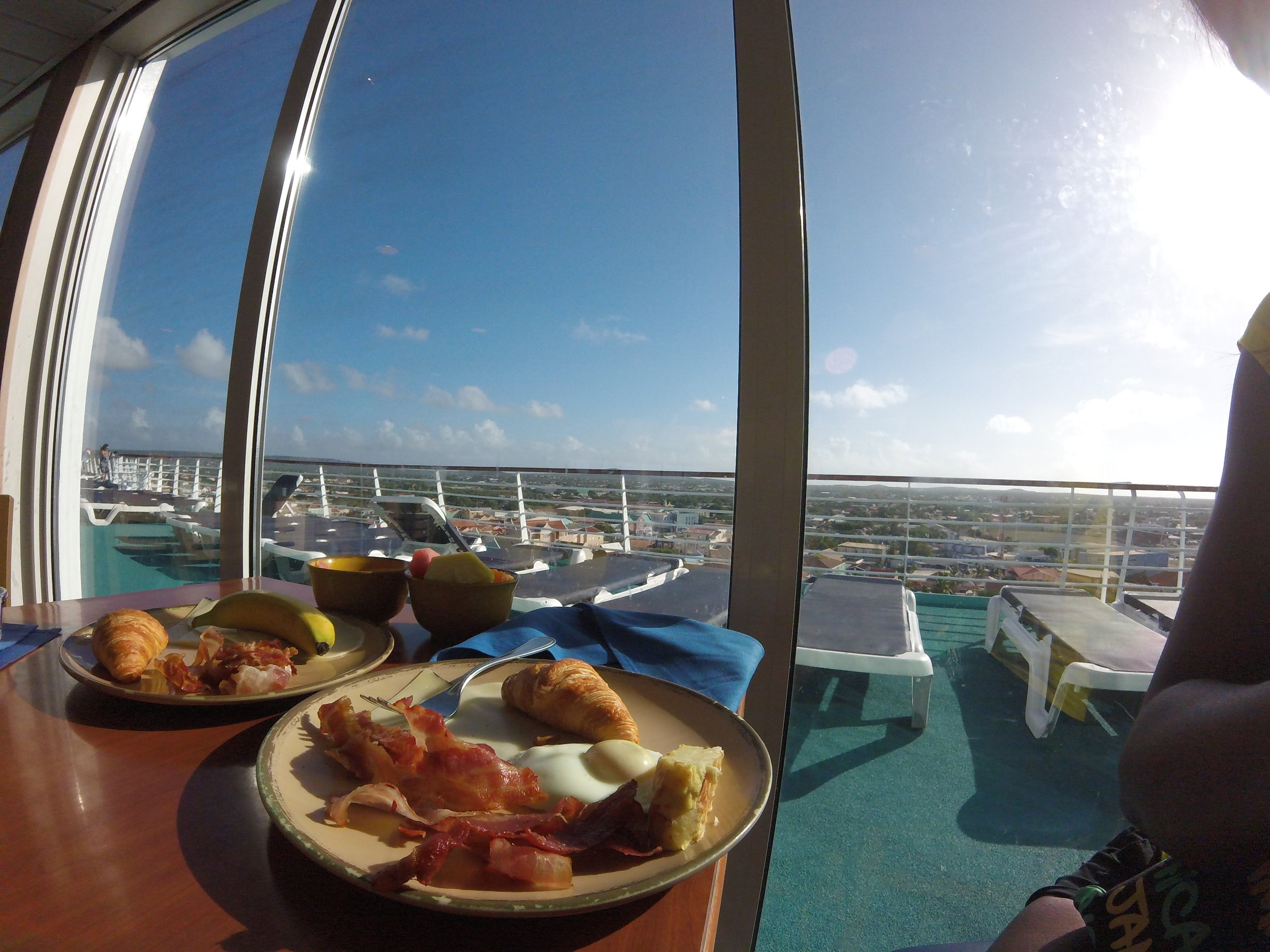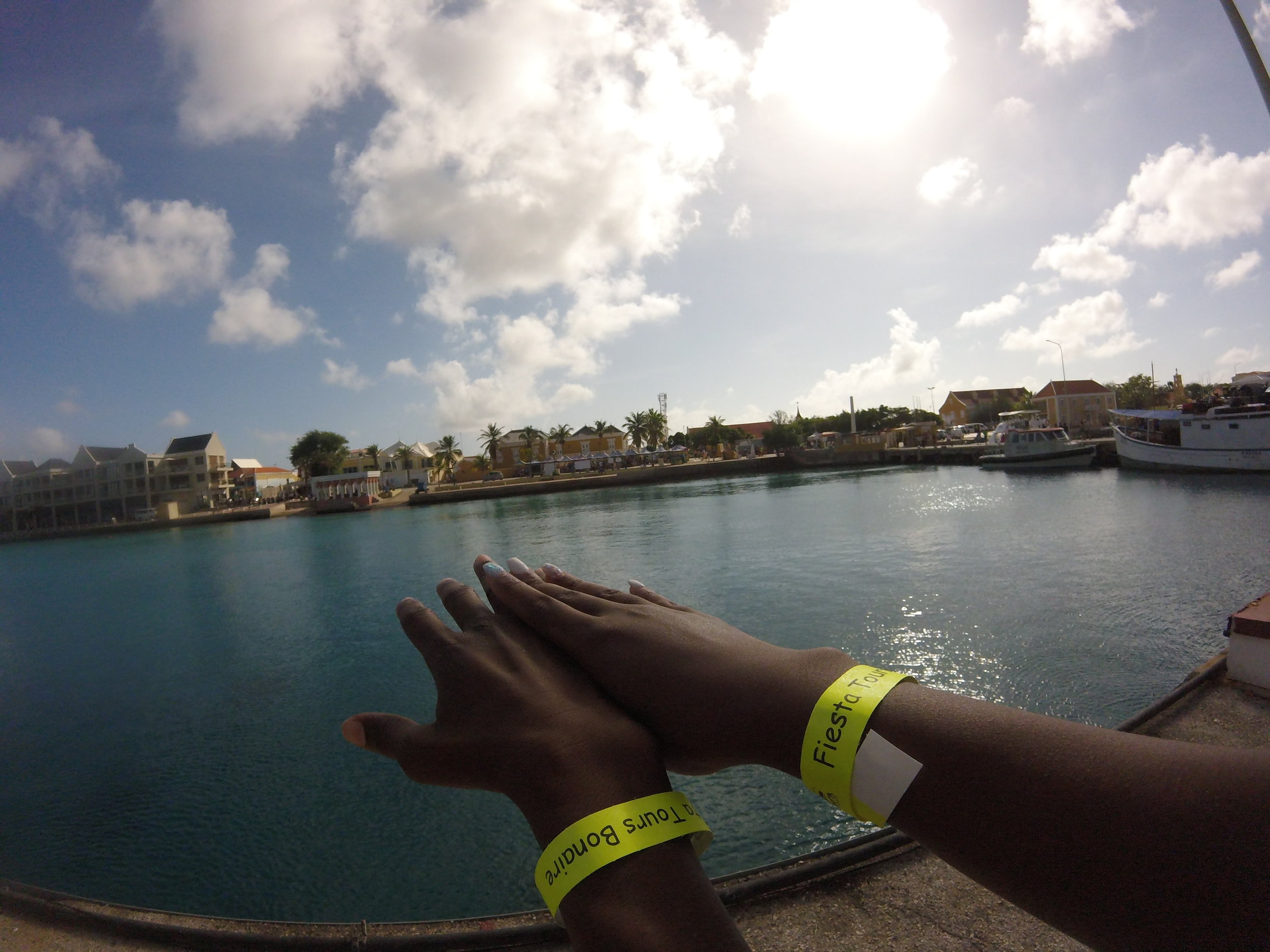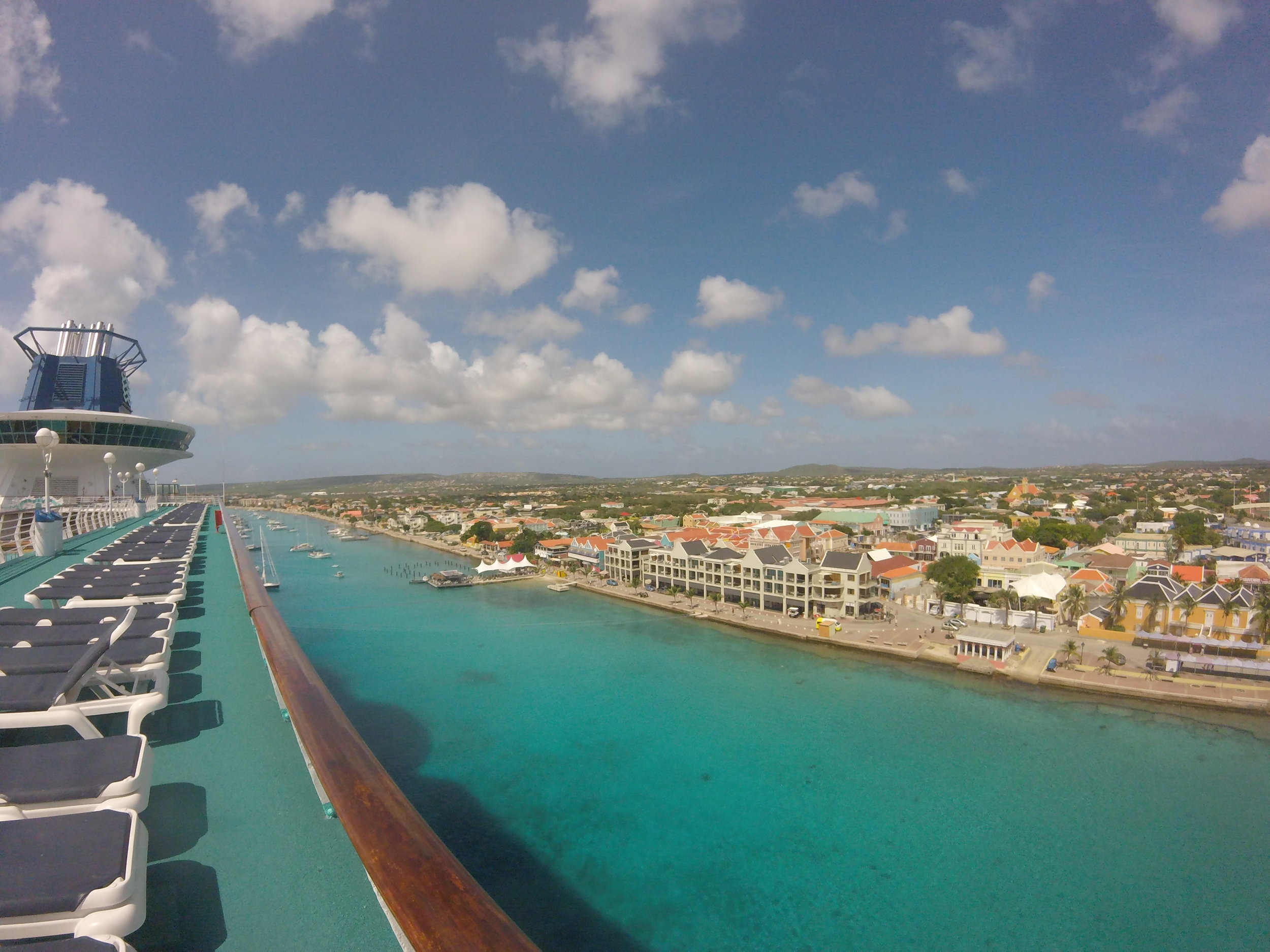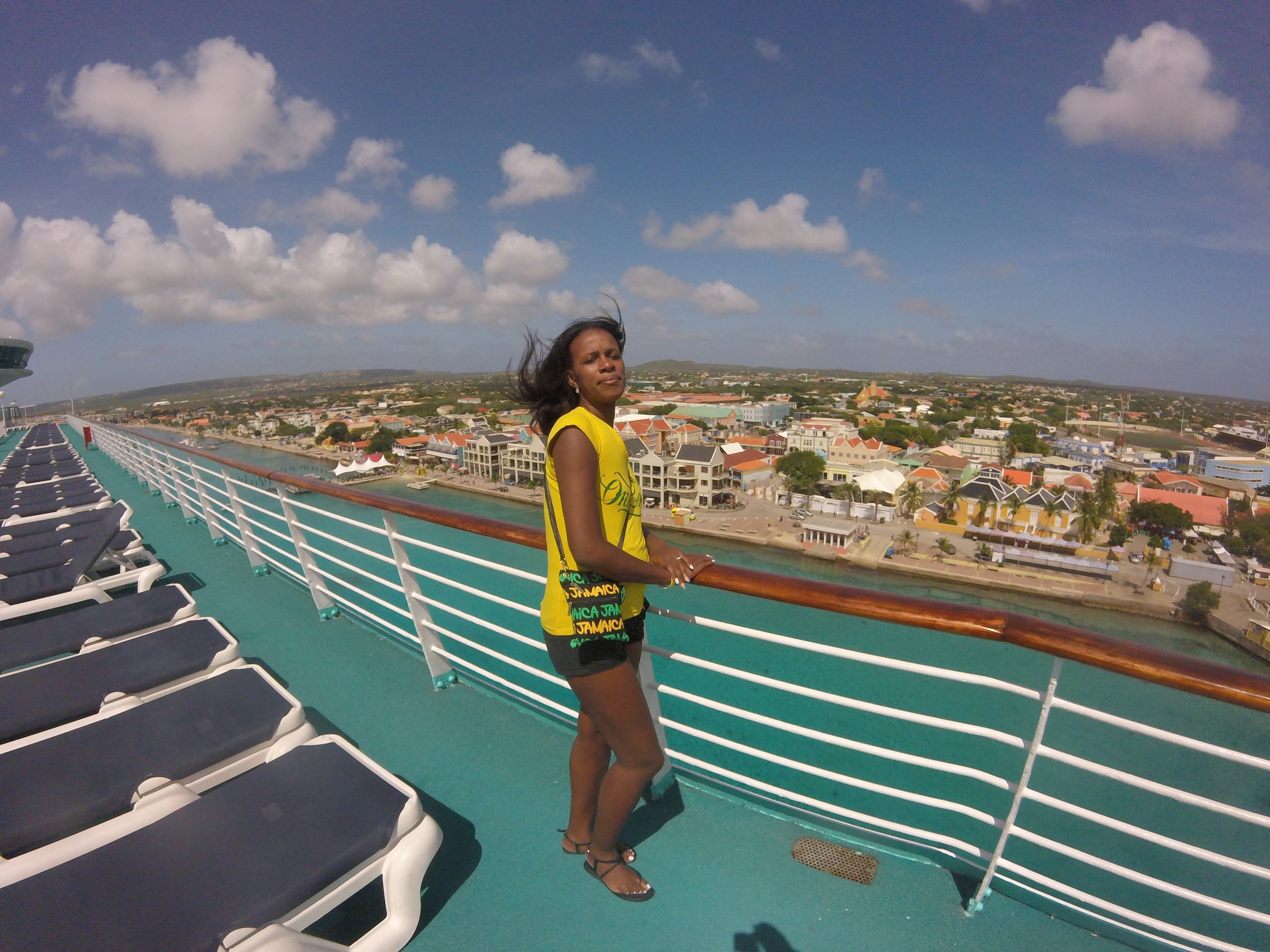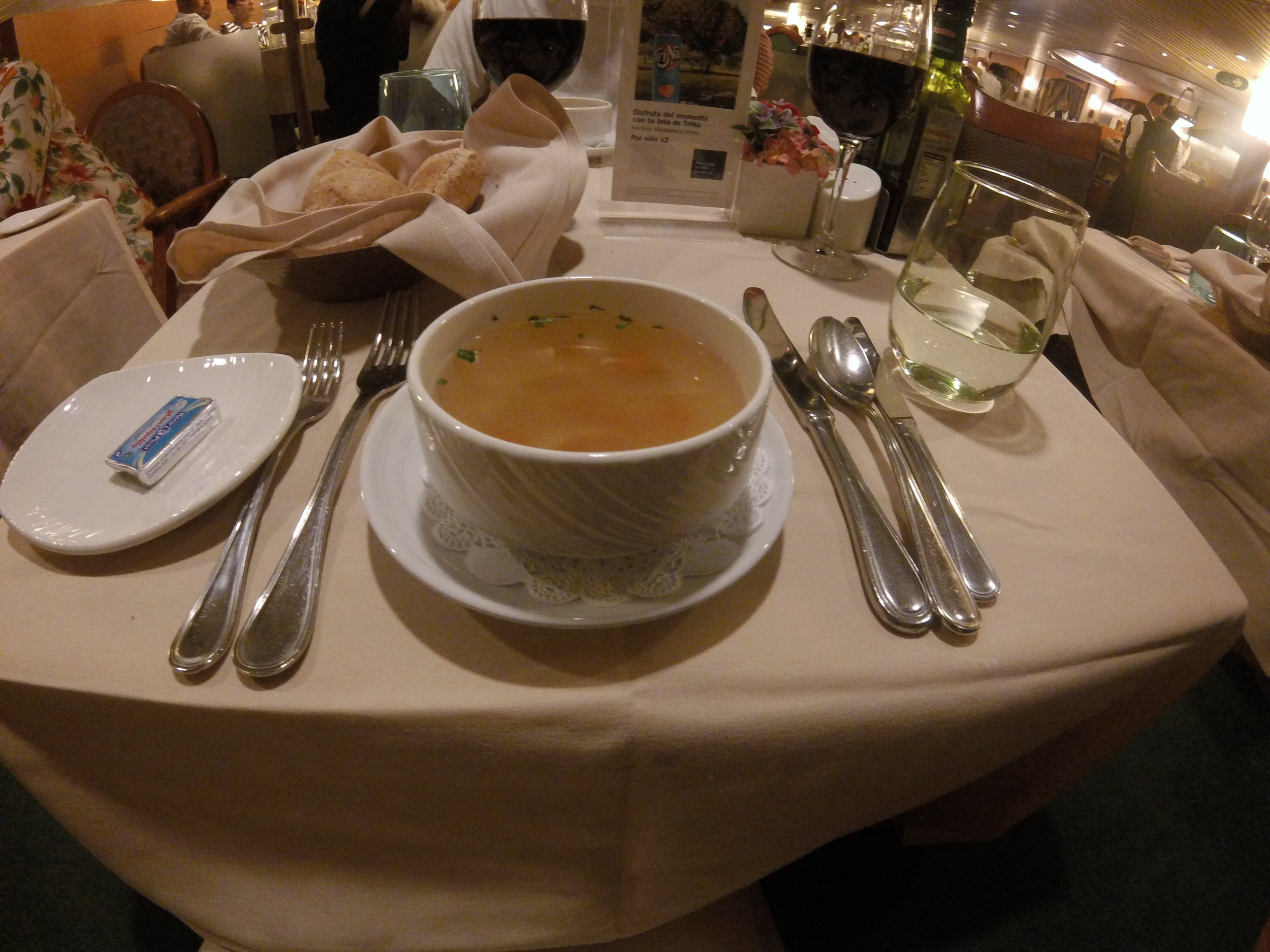 Aruba
Our ship docked in Oranjestad, Aruba on Wednesday, October 17, 2018. In Aruba, we ventured on an interesting and informative bus ride around and through Aruba on our Scenes of Aruba and Relax on Eagle Beach excursion. 
The tour took us to Aruba's Casibari Rock Formation, which we climbed. As we got to the top of the rocks, vertigo kicked in, and I was ready to climb down. As the ground was a bit wet, and I had sandals on, getting down was a bit slippery which didn't help the vertigo – yeah, my own fault there, but I had previously said I wouldn't climb and my sandals were perfect for the beach on which we would relax that day. Thank God we got up and down the rock formation safely.
We then continued our scenic drive around and through Aruba to the Natural Bridge, which, for my husband, is one of the highlights of our trip. He was intrigued by the bridge. I was intrigued by all the cacti and desert-like land we drove by along the way. From one window, we saw lots of water because Aruba is obviously surrounded by water, and from the other window, we saw what looked like a desert, with lots of cacti. How can both the ocean and desert exist together like that? It is truly amazing to admire God's handiwork. At the Natural Bridge, there was a store for which we had a ticket to receive a free pastiche pastry, which we each did, but we ate it so fast, I forgot to take a picture. It was delicious!
Our tour then took us to Aruba's famous lighthouse, then we took a scenic drive to Eagle Beach where we spent a little more than an hour and a half.
All venues we visited in Aruba that day were quite busy as two other ships – Royal Caribbean's Freedom of the Seas and Holland America Line's Nieuw Amsterdam – were also in port that day. We had a great time even with the busy venues, and we appreciated relaxing at Eagle Beach. We then returned to the cruise port, browsed a few shops, and returned to the ship, the Pullmantur Monarch.
Again, we ate lunch, enjoyed sailaway, showered, had dinner, and enjoyed each other's company.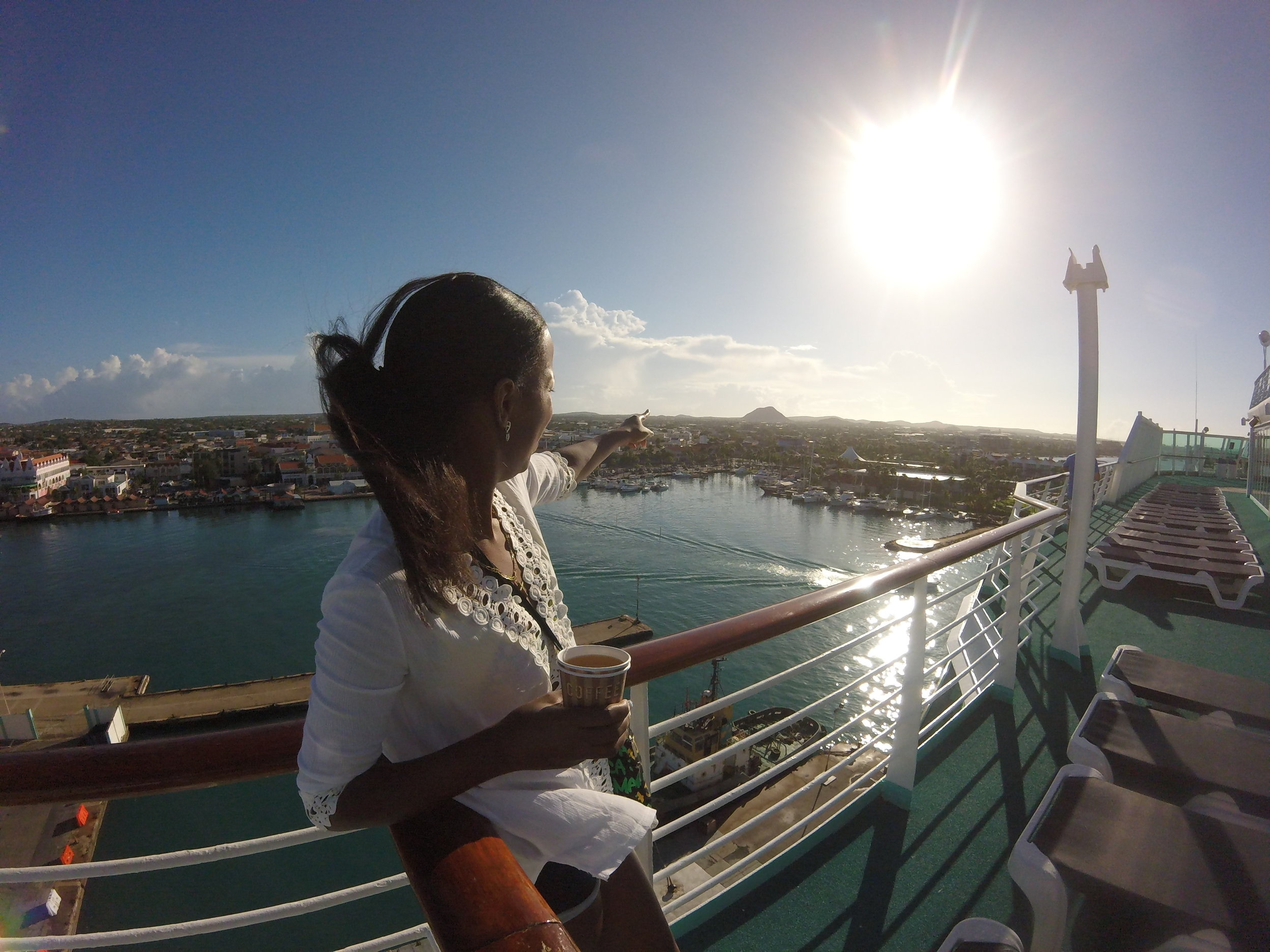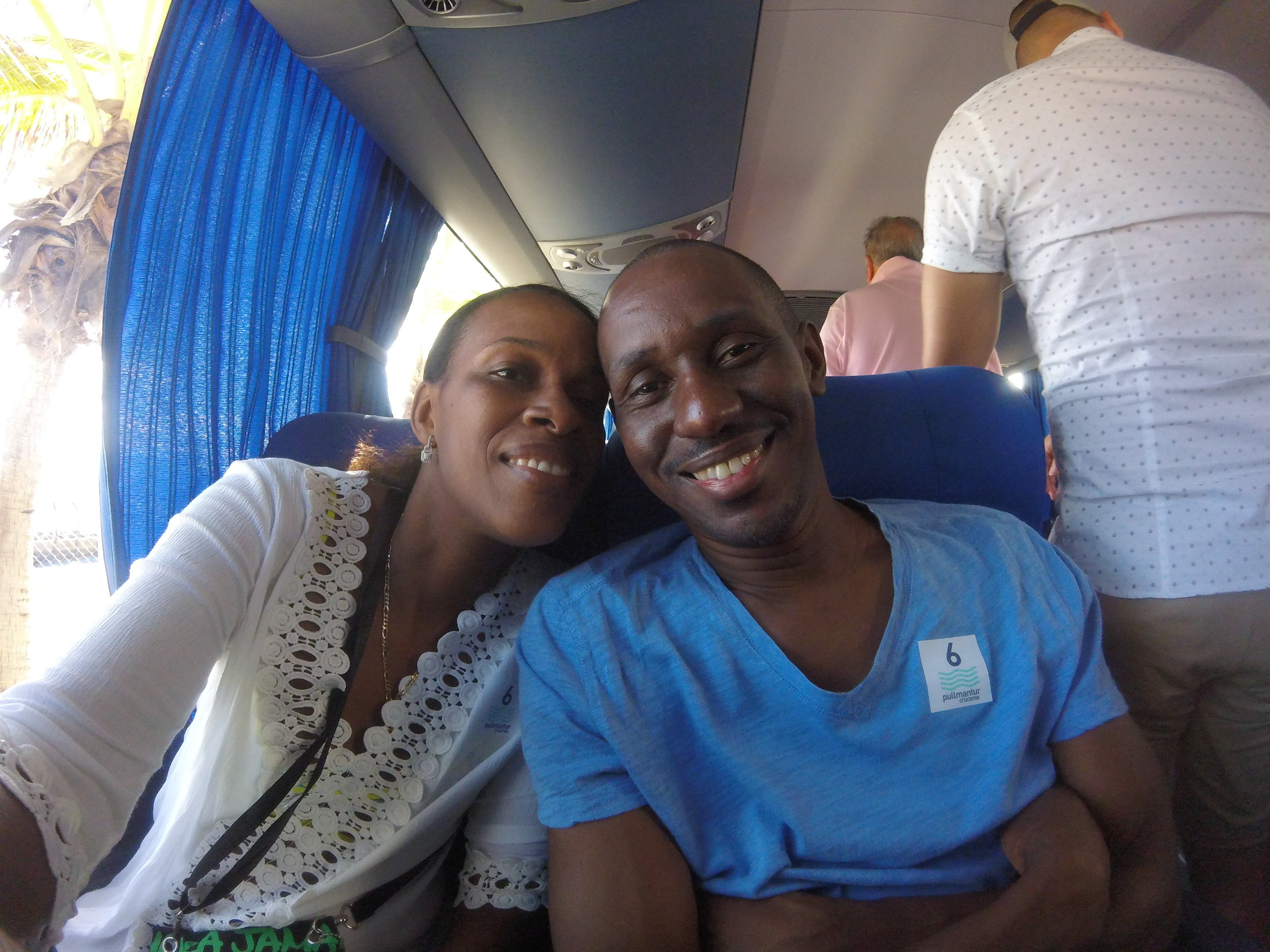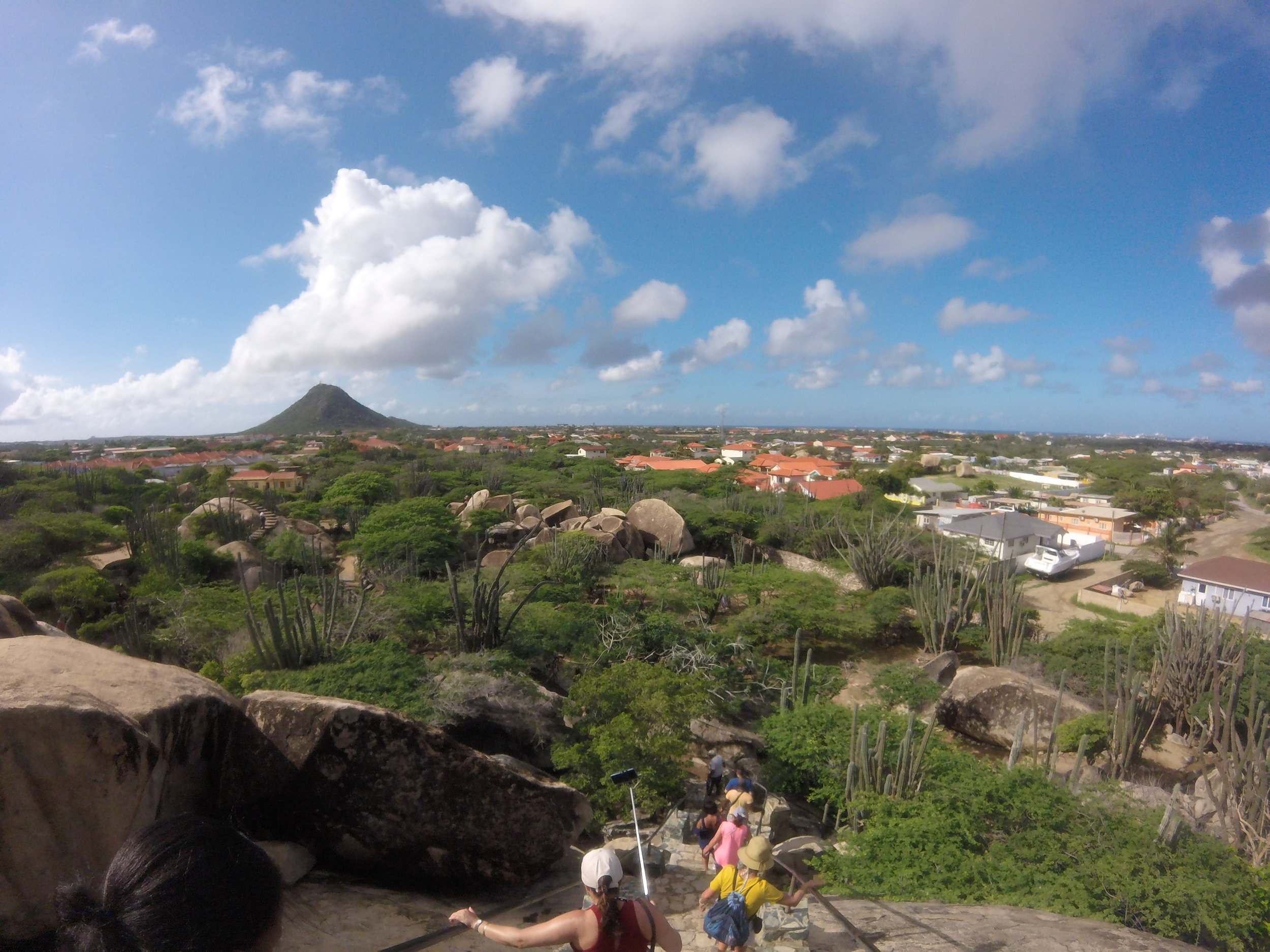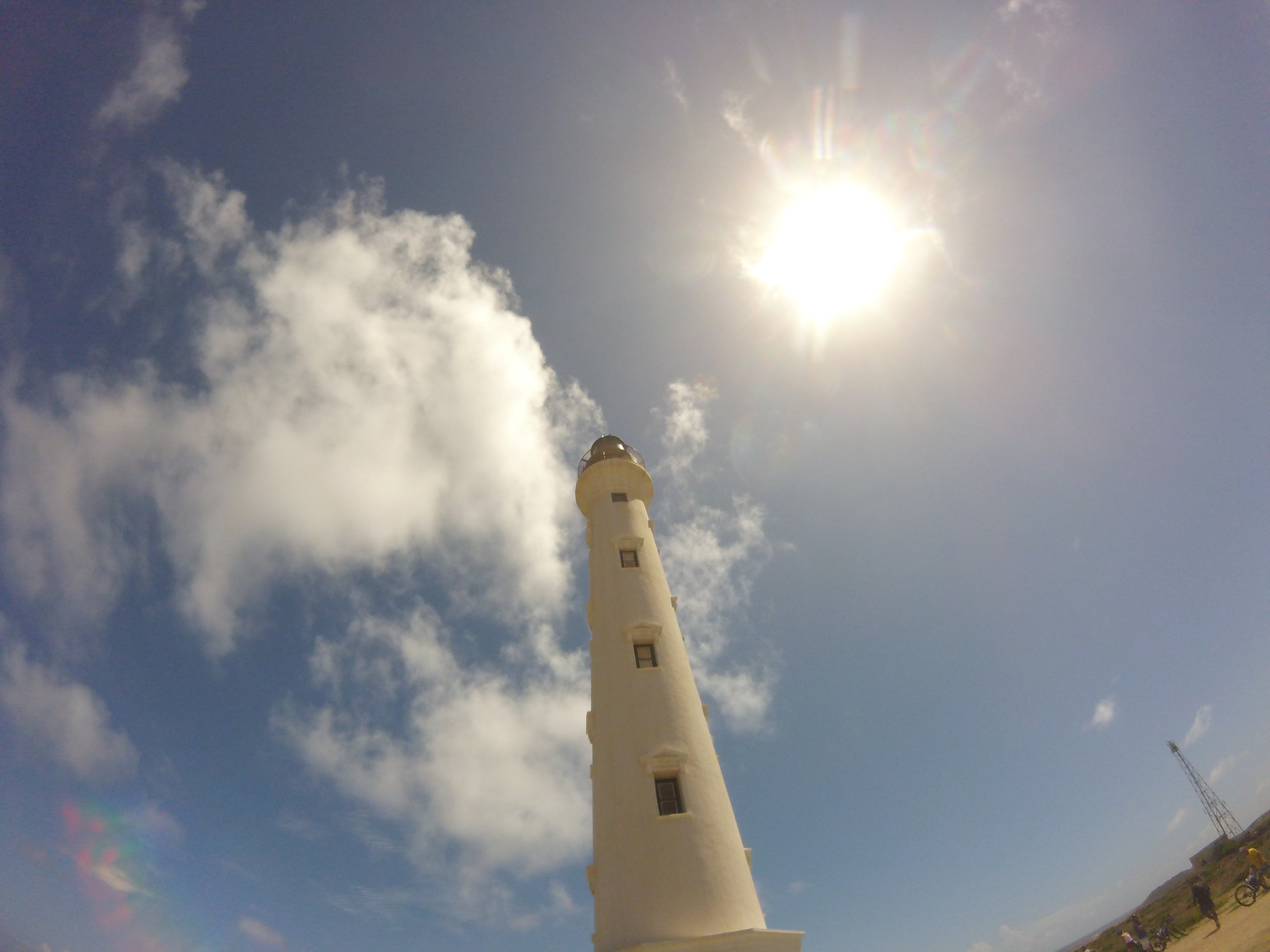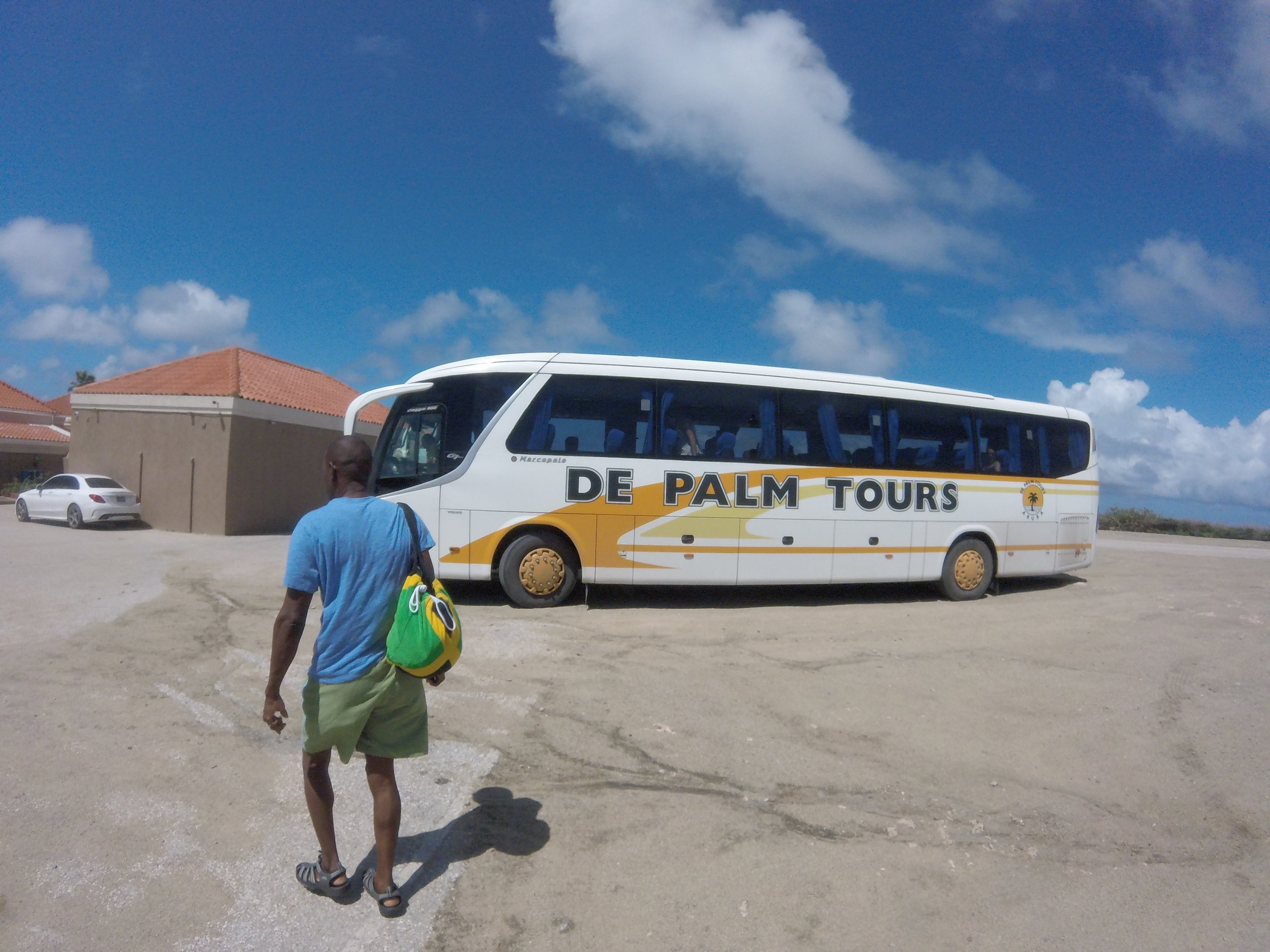 Sea Day
On Thursday, October 18, 2018, we enjoyed a day at sea onboard the Pullmantur Monarch. We had breakfast from the buffet as we had been doing each morning, and we spent time together on sun loungers out on Deck 12. We started reading while taking in some sun on Deck 12, but it was pretty hot out and we eventually went to the Monarch's Atalaya Rooftop Bar to enjoy the gorgeous views of the ocean and to read. Of course, we had lunch and dinner. Overall, we had a relaxing day at sea.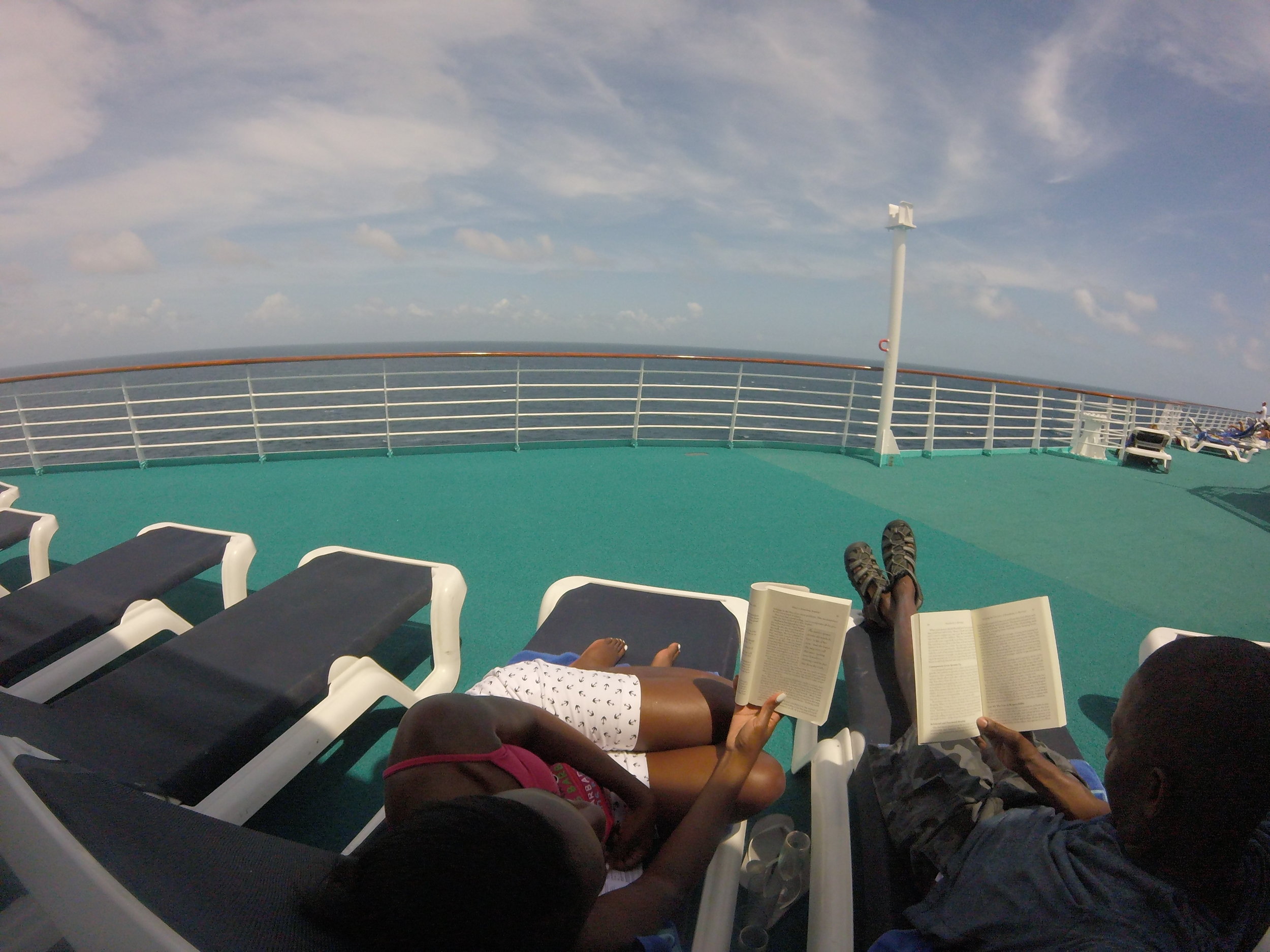 Panama
Our ship docked in Colon, Panama on Friday, October 19, 2018. After breakfast, and prior to disembarking, we again went to the Atalaya Rooftop Bar to relax a bit before our tour meetup time.  In Colon, we boarded a bus for our Complete Panama excursion that took us to the Panama Canal, Panama City, and Colonial Panama which is being restored. We thoroughly enjoyed this tour!
As our bus approached the Panama Canal, our tour guide announced that a ship was about to go through the Canal, and surely, by the grace of God, we got to the actual location in time to witness the Celebrity Infinity going through the Panama Canal that day. There was also another ship going through the Canal, and that ship provides aid to the United States military. This was a truly memorable experience, witnessing these ships going through the Panama Canal that I have heard and learned about since I was a little girl. Add to that, my love for cruise ships, and I felt like a kid in a candy store! Amazing! We also walked through the museum at the Panama Canal and returned to the bus.
Driving through Panama City, we saw lots of skyscrapers. We then arrived in Colonial Panama in which many buildings are being restored. There, we visited churches, parks, and admired the town. We also visited a shop so that we could purchase souvenirs. After our walk through the old town, we boarded our bus to return to the cruise port.
We got back onboard the Pullmantur Monarch, ate lunch, enjoyed sailaway, showered, had dinner, and enjoyed each other's company.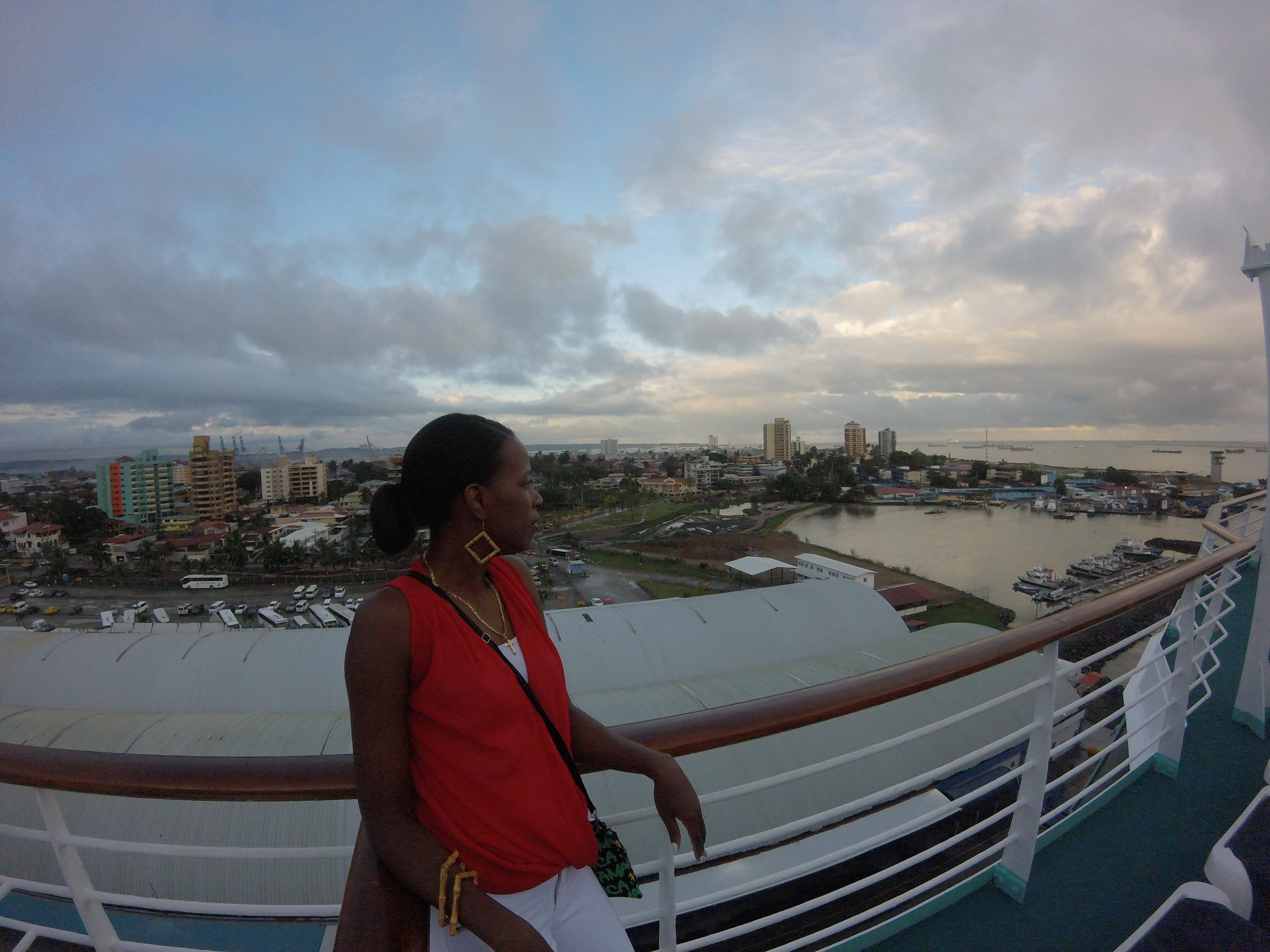 Colombia
Our ship docked in Cartagena, Colombia on Saturday, October 20, 2018. Colombia! How I looked forward to our visit during this cruise, and you, Colombia, did not disappoint. Prior to our cruise, I contacted Alex Rocha, at Experience Real Cartagena, who comes highly recommended by many travelers and travel groups, so we planned where we would meet near the port. One of Alex's daughters was there to meet us, as planned, and she kept in contact with her dad and the tour group as they had a bus of other visitors to Colombia on its way to meet us at the port area for our tour to, through, and from Palenque.
Oh, Palenque! My husband and I say that this tour is bittersweet. It is sweet to see our brothers and sisters in Colombia, with whom we share such a rich culture. It is a pleasure to be welcomed to Palenque with open arms and to see and hear the expressions of joy from Palenque's people. However, it hurt to see the poverty that exists among the people of Palenque and also in other communities along the way. That being said, the level of pride in Palenque and its people that our brothers and sisters in Palenque shared is so strong that I think it may be considered insulting to say that we noticed any poverty at all. To be clear, the poverty we speak of is only financial. The spirits and culture of the people we met in Palenque are indeed rich! That is a characteristic of the African Diaspora.
It was truly a pleasure to tour Palenque with Alex, his family, and our fellow visitors to Colombia. We were all walking through a community as one big family with a history and culture that transcends language barriers. The extremely comfortable tour bus, the rum and coke we drank, and the delicious lunch we shared in Colombia with Alex and his family was definitely a highlight of our trip!
We saw a school in Palenque where the culture, history, traditions, and general subjects one expects to learn in school are taught. We admired murals and took photographs at a number of murals. We visited neighbors as we walked through Palenque. We saw and participated in a Palenque dance performance. This is life! Truly! This… getting out there and seeing communities many know nothing about, seeing God's love there, and bringing God's love… this is life!
After a wonderful sit-down meal – my meal, in particular, was a delicious fried fish with some of the most delicious coconut rice I have tasted thus far, as well as plantains and vegetables, with a tall glass of refreshing lemonade – we boarded our tour bus, which took hubby and me to the cruise port. This was an awesome experience!